No Code App - It's All You
eXtendMobile is the first NetSuite focused no-code mobile application framework that allows you to dictate your desired function.
eXtendMobile is unique because it allows NetSuite Administrators and Users create their own functions to GET or POST data. 
Pick a record, select the fields you want to view or edit, and then start calling for your data. The functions are practical for your remote workers, field services, production floor management, or even empower your vendors with an ability to fetch and update your PO's.
The possibilities are endless on what you can create to supercharge your operational efficiency.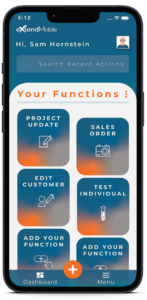 Connect to any NetSuite record, including Custom records.
Design your own form, directly in the app…quick and organized.
Create your own function, save it, and distribute.
Customizable – the framework is flexible and can support 1:N integration flows with third-party data providers*
*Non-NetSuite integrations into the eXtendMobile framework require custom development services.