Sending and receiving files between parties consumes a ton of time and lacks efficiency. It also highlights inherent issues with files being sent to multiple different recipients and having those files siloed in peoples' inboxes. If files are too large to send via email, you probably need to use an alternative method to transmit the file, whether it be FTP or uploading them to a cloud storage solution.  
For each new customer or vendor that wants to send you files via FTP, the typical process can be quite tedious. It may even require some technical assistance from your IT team. For many organizations, the process might look something like this: 
Typical File Sharing Process with FTP
Mount the FTP

 

Send credentials to the 

external party

 

External party

 uploads file(s) to the FTP site

 

Your user(s) are notified either manually (by the client) or programmatically.

 

The 

file

 is migrated or downloaded

 

The file is uploaded to NetSuite

 
Whether you are receiving large artwork and media files from your customers or critical compliance documents from your vendors, there is a much more effective way to handle this situation and ensure that these files are properly linked to your NetSuite customer or vendor record.    
What if you could generate a URL specific to your customer or vendor that could enable them to upload the files directly to your cloud storage for themselves quickly and easily?  
Optimized File Sharing With eXtendFiles Inside NetSuite
Here's how easy getting files from your customers and vendors should be: 
From within NetSuite, e

mail 

your

 

customer/vendor an upload URL link

 specifically for them.

 

Customer/vendor uploads 

their file

 via a drag & drop

 web interface.

 

File is uploaded directly to your repository & user is notified

 via 

an 

automated 

NetSuite 

workflow

. 

BOOM

!

 
Here's how this can be done leveraging the built-for-NetSuite eXtendFiles solution. 
Co

nfiguring the Public Upload 

F

eature 

W

ithin the 

eXtendFiles

 Setup 

C

onfiguration
Within the setup of the eXtendFiles bundle, NetSuite administrators can enable any native NetSuite record and/or any custom records within the system using the public upload feature.  
In the eXtendFiles setup screen (shown below), you can see that the public upload feature has been enabled on the customer and vendor entity records, the opportunity, estimate, sales order, and purchase order transaction records, and even two custom records.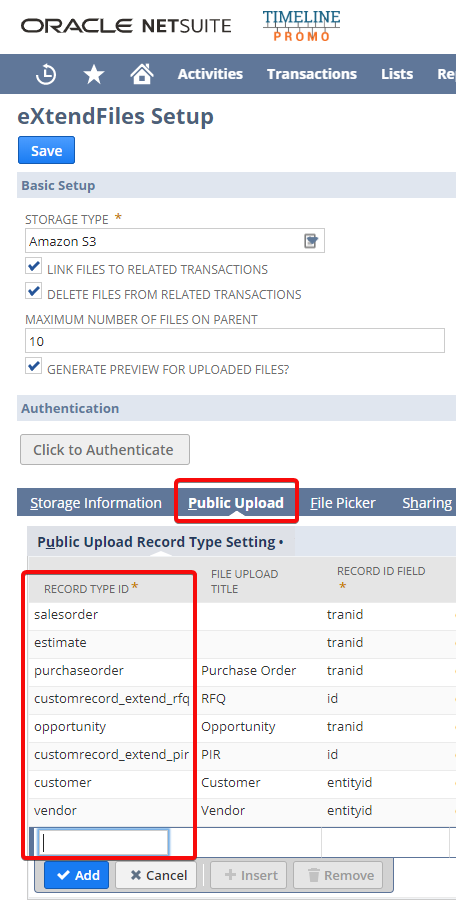 For each record that is enabled, there are a series of parameters that must be provided to facilitate and govern the upload function within your NetSuite instance. For example, you may want to limit the number of files that an external party is able to upload.
Conversely, the administrator may wish to allow for an unlimited number of files to be uploaded.
Enabling Public Upload Links on Specific Records
Once the NetSuite Administrator has enabled the public upload feature on the desired record types within NetSuite, users can quickly and easily create a public upload link on a specific record. To do so, a user would simply:
Navigate to one of the record types that has been enabled by the administrator for public upload.
While creating a new record or updating an existing record in edit mode, the user would navigate to the eXtendFiles subtab and mark the generate public upload link checkbox as checked.
Once the record has been saved, a public upload link URL will be generated as shown below.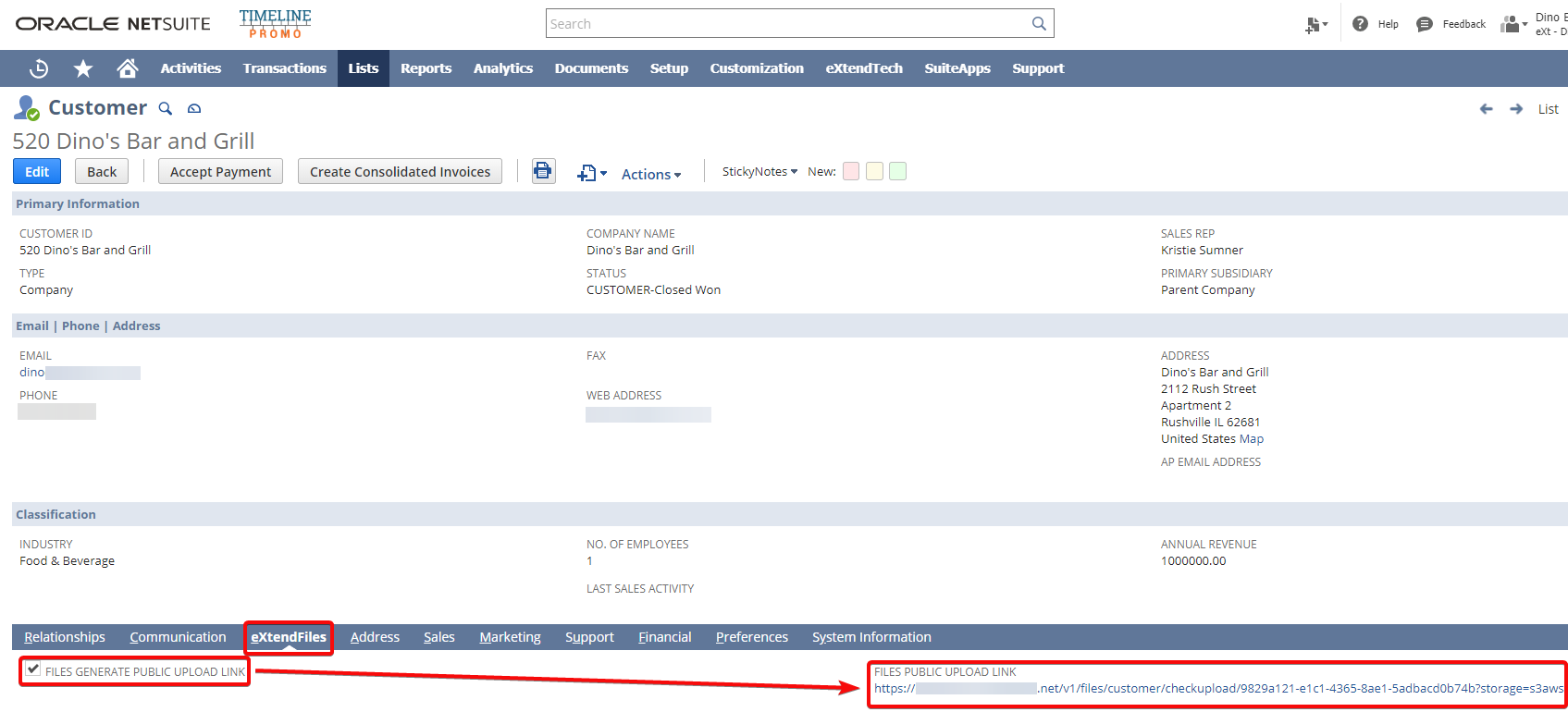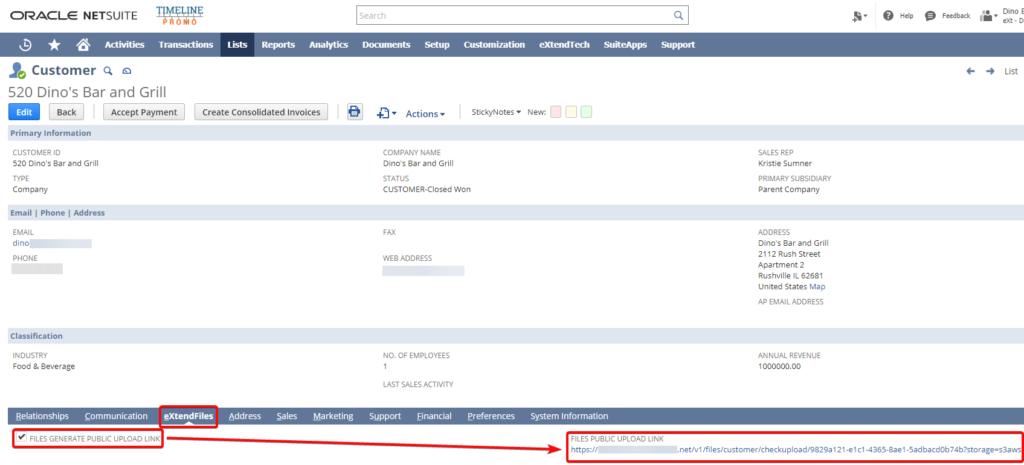 Collecting Files From External Parties
Once the unique public upload link has been generated and stored in a field on the NetSuite record, this link can then be shared with your customer, vendor, or non-NetSuite user so that they can upload files directly to your cloud repository.
At the same time, those files will also be directly associated with the enabled record. Using the upload link, the external person will be able to upload one or more files; either one at a time or in-bulk by selecting multiple files.
The web form's simple and responsive design enables the external party to easily drag and drop files into the web form.
Or if they prefer, they can click on the "Choose files to upload" link which will allow them to browse their computer for the file(s) to be uploaded.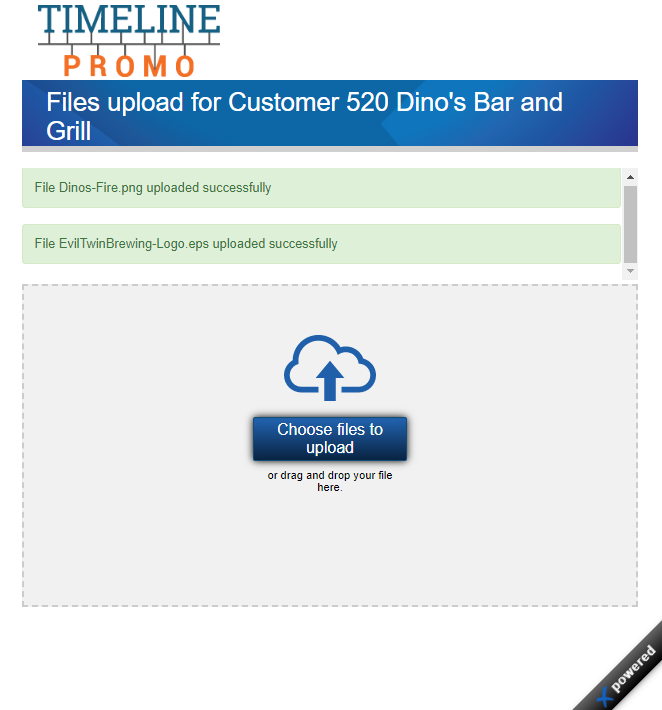 How This Feature Helps Our Clients
Our clients have been able to significantly transform their process using this feature.
One of our large manufacturing clients requires heavy file collaboration with outside parties. They offer the File Upload link within their email templates being sent to their vendors and customers.
They're seeing strong external adoption to this File Upload feature and average over 5000 uploads per month from their external trading partners.
This new process is saving them between 500 to 800 hours per month of pure administrative task processing labor and shortened the average turnaround time for file processing by up to two (2) hours per file.
This single feature alone covered the cost of the entire eXtendFiles bundle within one (1) month of use!
With each record having a unique URL for File Upload association, this provides an automatic join upon the loading of the file.
The process of a Customer or Vendor pushing their files directly up to a record on the NetSuite side eliminates several steps in the legacy process.
They went from being:
Receive File in Email
Search NetSuite for associated Record
Pull file(s) from Email to local directory
Upload files into NetSuite or Cloud Repository
Copy links and Distribute
To, simply:
The uploaded file shows up on a role-based dashboard, highlighted and a notification is sent outlining what has occurred.
Taking Appropriate Action Inside NetSuite
Once files are successfully uploaded by an external party, the uploaded files will appear in a sub-list view under the eXtendFiles subtab of the enabled record. With all the power provided by the eXtendFiles custom record and the NetSuite platform, you can easily author saved searches and workflows to raise alerts or create tasks for users when files have been uploaded to review and take appropriate action.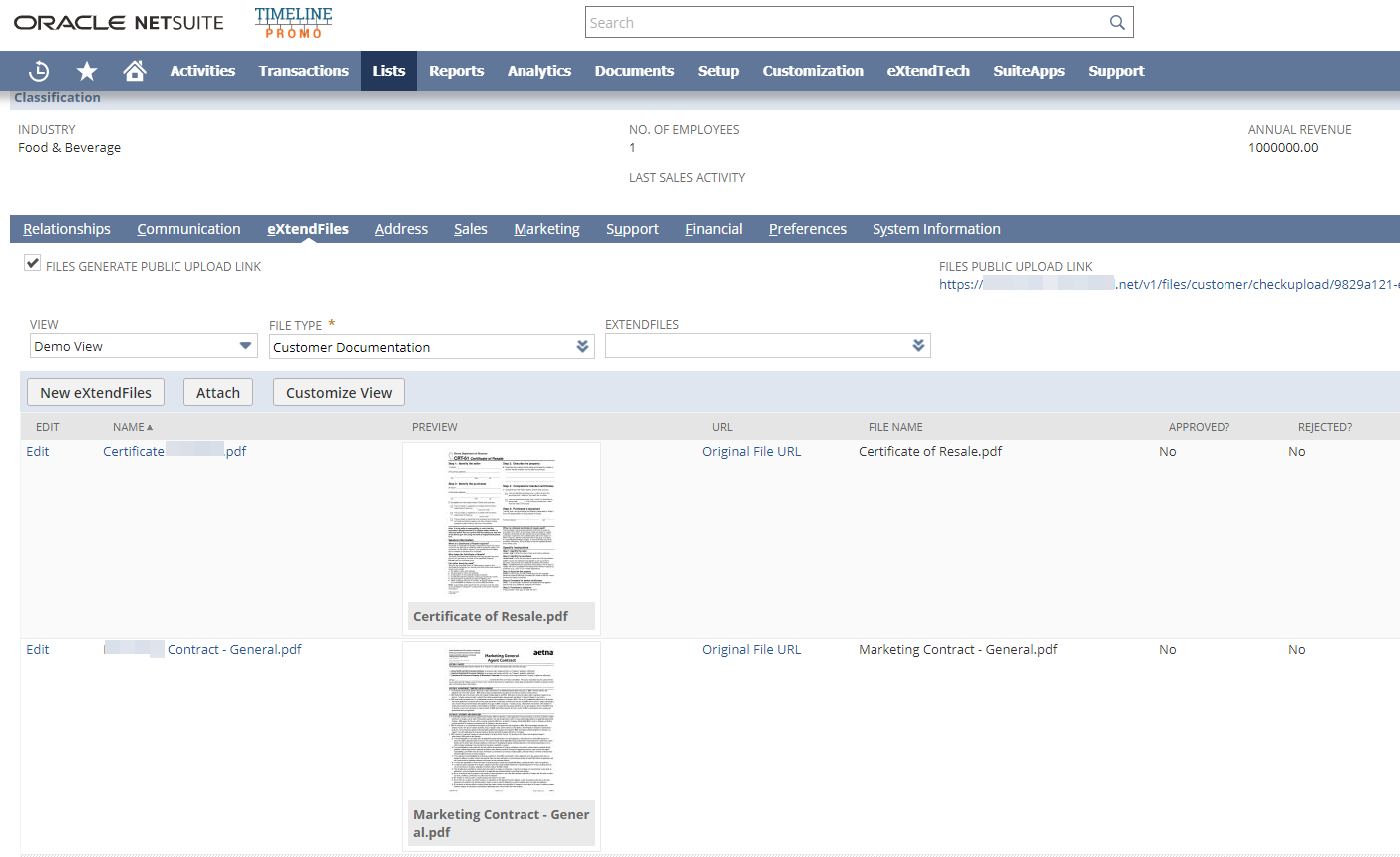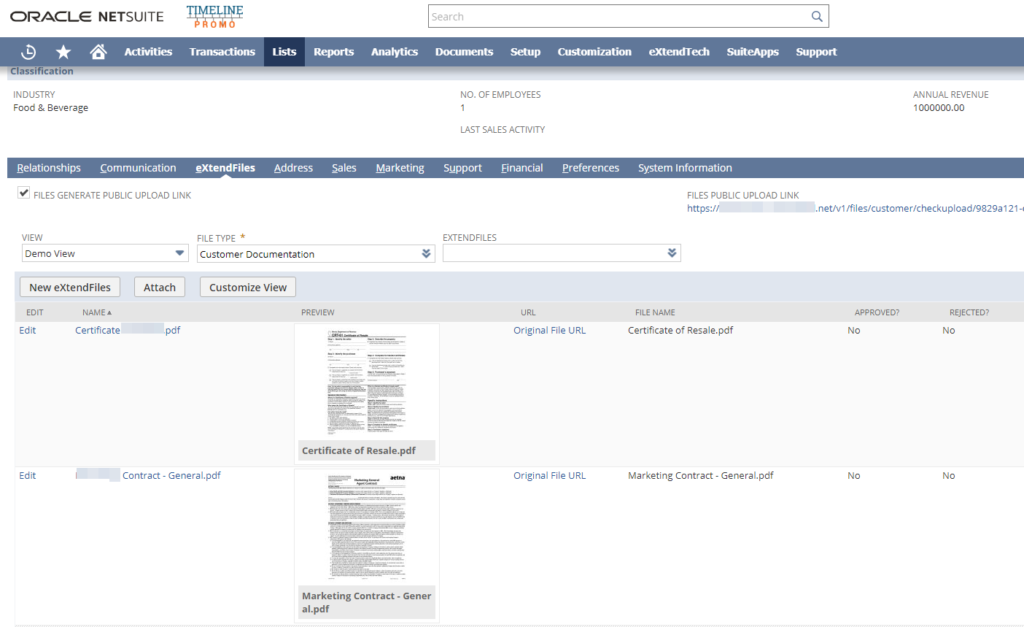 The Bottom Line
With the eXtendFiles cloud storage integration and its public upload feature, you will never again have to wrestle with emailed file attachments and/or need to manage FTP sites to obtain files from parties outside of your organization.  So, if you're looking to streamline the process of gathering files from your customers and vendors, let's have a conversation and assess where we can help. 
Just like the old beer commercial from the 80's always told us: "You know… it doesn't get any better than this."
Receive updates whenever a blog goes live!