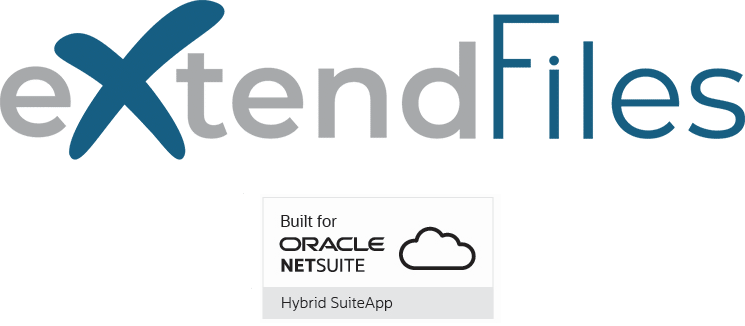 eXtendFiles achieves 'Built for NetSuite' Certification with Release 2021.1
MONTVILLE, NJ – eXtendTech today announced that its flagship eXtendFiles application has been approved as a 'Built for NetSuite' certified SuiteApp.  This re-certification  means that  eXtendFiles is fully compatible with upcoming release of NetSuite.
What does eXtendFiles do?
eXtendFiles is a multi-cloud repository integration for NetSuite which provides a seamless integration with a wide variety of market leading storage solutions including:
Amazon S3
Microsoft OneDrive/SharePoint
Azure
Oracle Cloud
Dropbox
Google Drive
Box.com
Each file that you save to your cloud storage creates a NetSuite custom record. Each file represented by a custom eXtendFiles record enables you to quickly and easily write saved searches and workflows to find, act, and report on your files. Also, you can easily collect or share files with people outside your company by generating public links from within NetSuite. The eXtendFiles Collaborate edition enables collaboration with your customers and vendors.  Through the intuitive and responsive web interface, your trading partners can review, comment, and collaborate with you.
Get all these features and more with our certified Built For NetSuite eXtendFiles bundle.
To learn more about eXtendFiles, contact us to set up a live demo.